I am lucky enough to be a participant in the Lil' Scrappers Big Summer Win Contest. We just found out today who made it on to Round 2 and I was chosen as one of the 10 to move on!!! I can hardly believe it!! There were so many awesome LOs for Round 1 I was sure I would be cut.

Now that the winners of Round 1 have been announced I can share my LO and what the challenge was.

Challenge Round #1: "Personal GROWTH"
This opening contest round will be a layout challenge. Each participant is asked to reflect back to a period in time where "Personal Growth" was a struggling factor in their personal life. How did this obstacle affect you? How did you manage to overcome the obstacle(s). Did you grow personally from the experience.
* Their page MUST include a "Creative" self portrait (not your typical portrait picture)
* layout size must be a single 12x12 in size
* journaling must be in handwritten format.

My Layout: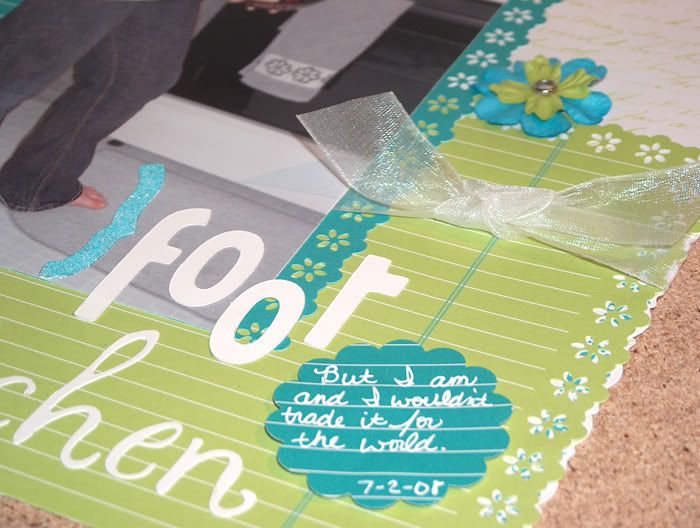 About my layout:
"I never thought I'd be a 'kept woman' (as a side note, I had no idea 'kept woman' was a mistress. I thought it was somebody who didn't bring in money and her bills were paid). I never thought I'd be a stay-at-home-mom. I never thought I'd question if I was "earning my keep"; or the best person to be raising my daughter. I never thought I'd be.." and then the title "barefoot in the kitchen".

On the right hand side is a popped up circle where I have written "But I am and I wouldn't trade it for the world."

When I took my self portrait I posed in front of the oven, with barefeet and mixing bowl in hand. The background of the picture is in black & white and I am in color. This is to symbolize the "old" thoughts about women staying at home and being "pregnant and barefoot in the kitchen"; while I am in full color and living today.

While I love staying at home and raising my DD there have been times I have contemplated getting a "real job" again. I sometimes don't know if I am doing enough or what I do is valued. I am sure every mother goes through the latter whether or not she works inside or outside the home.

This has been a pretty therapeutic layout.

Thanks for stopping by to take a look!